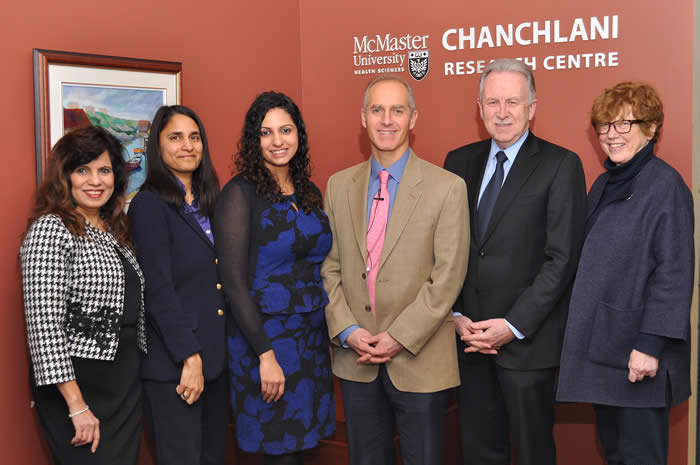 On February 12, 2018, Dr. Dariush Mozaffarian arrived in Hamilton for two days of sharing and presenting ideas to global and population health researchers. He was the 2018 recipient of the Chanchlani Global Health Research Award. Monday's events culminated in a well-attended lecture by Faculty, and students on the current state of nutrition science, including issues with the current perception of nutrition, and ideas for changing the food culture and system.
Even though most of the attendees aren't nutrition specialists, Dr. Mozzafarian had a captive audience for the entire lecture. He ensured everyone could understand his points, and everyone had a stake in it - because it is our own health he's talking about – we all want to know how to eat healthily. He explained the history of nutrition, and why there seems to be a lot of confusion in the field. He also provided a rule of thumb he gives to people when asked: "Eat foods that give rise to life", namely foods that also generate other life matter (if not eaten), like nuts, seeds, fruits, grains.
To reduce the confusion about food, Dr. Mozzafarian suggested systemic changes that could be put in place so that people can know what they are actually buying and differentiate healthier choices from their counterparts. To change a system successfully, products, culture, and environment changes need to take place. He proposed some policies that could be implemented to encourage some of these changes, most of which he is working with others in the United States.
After the lecture, Dr. Jaya Chanchlani presented Dr. Mozaffarian with the Chanchlani and Global Health Research Award.
2017 Global Health Research Lecture & Award
Dr. John Ioannidis came and spoke to a packed room on February 6. His lecture, Improving Research Practices: A Global Challenge was about some of the pitfalls in the current structure of the scientific community today. He addressed issues including the requirement from funding sources to have a "deliverable", and the lack of incentive (in fact, quite the opposite) for failure and openness and transparency in how a study was conducted. He discussed possible remedies, and what it would take (minimally) for these remedies to take effect. He was also clear that more work would be needed to test and see what remedy may actually be beneficial, rather than doing more harm to our scientific progress.
To see the Award & Lecture for yourself, watch the video below (the slides are here):
We also had the opportunity to have a Question & Answer session prior to the lecture. Please watch the session below:
2016 Chanchlani Global Health Research lecture
Fourth Annual Chanchlani Global Health Research Award Recipient:
Vikram Patel: Celebrating Mental Health for All at the 4th Annual Chanchlani Global Health Research Award & Lecture
Published: February 29, 2016
From left: Tina Chanchlani and her mother Jaya Chanchlani; Vikram Patel (recipient of the 4th Annual Chanchlani Global Health Research Award); Sonia Anand (professor and director of the Chanchlani Research Centre).
Vikram Patel's vision of mental health for all "is one that we should all celebrate," said Dr. Tina Chanchlani, who presented the Chanchlani Global Health Research Award to this year's recipient on February 23, 2016 at the 4th annual award and lecture.
Chanchlani's father, philanthropist Vasu Chanchlani who passed away in 2014, and her mother, Dr. Jaya Chanchlani, created the award with McMaster in 2012 to honour an outstanding scientist who has made a significant impact in the area of global health.
As Chanchlani noted, Patel is a "psychiatrist, researcher, author, and professor who has dedicated his life's work to making a positive difference in the field of global health and giving voice to those who are marginalized."
He delivered his talk "The Black Dog: Why We Don't Care" to a packed lecture hall. The dynamic presentation shed light on the issue of depression and mental illnesses, which are among the leading causes of disability around the world. The World Health Organization (WHO) estimates that nearly four to five hundred million people are affected by mental illness.

"We were delighted to recognize Vikram Patel and his contributions to the area of global mental health," says Andrea Baumann, director of the Global Health program. "The stigma of mental health is a very real issue, and it needs to be addressed, especially considering the fact that depression is a leading cause of the global burden of disease."

Patel is co-founder and former Director of the Centre for Global Mental Health at the London School of Hygiene and Tropical Medicine (LSHTM). He is also Co-Director of the Centre for Control of Chronic Conditions for the Public Health Foundation of India, as well as the co-founder and a member of the Managing Committee of the NGO Sangath.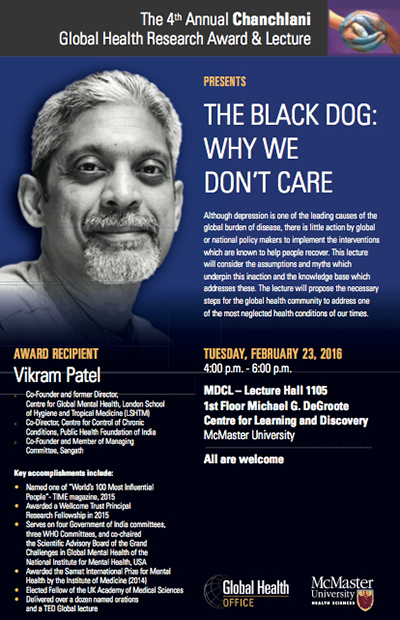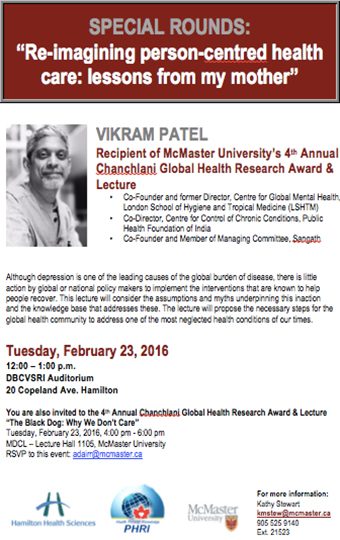 2015 Chanchlani Global Health Research lecture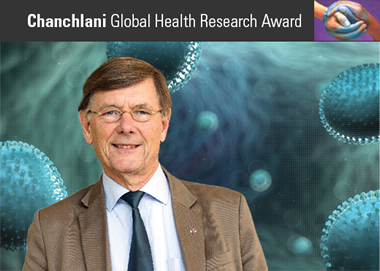 Third Annual Chanchlani Global Health Research Award Recipient:
Professor Dr. Ab Osterhaus
Head of the Department of Virology of the Erasmus MC Rotterdam
Date: Wednesday February 25, 2015
Award lecture title: "From Zoonosis to pandemic in a changing world"
View video of 2015 Chanchlani Global Health Research lecture
by Ab Osterhaus
2014 Chanchlani Global Health Research lecture
Second Annual Chanchlani Global Health Research Award Recipient:
Dr. Hans Rosling, PhD, MD Professor of International Health, Karolinska Institute, Co-founder & Chairman, Gapminder Foundation
Date: February 24, 2014
2012 Chanchlani Global Health Research Awards
First Annual Chanchlani Global Health Research Award Recipients:
Dr. Madhukar Pai, MD, PhD
Associate Professor of Epidemiology, McGill University
"The freakonomics of TB control in India"
Dr. Nikika Pant Pai, MD, MPH, PhD
Associate PRofessor of Medicine, McGill University
"Point-of-care tests for HIV: innovation, synergy and impact"
Date: November 27, 2012